Midland Arc Flash Training
Cost: $40
Duration: 1 Hour

This one hour NFPA 70E Arc Flash training course is ideal to understand the risks and premention when working around electrical equipment.
Schedule Arc Flash training in Midland from the course calendar below or by calling (432) 203-8332 or email the office.
For your convenience we also have available the combined Arc Flash and Qualified Comprehensive Electrical Safety course here.
Take the class online by going to Oilfield Training Online
(Note: The online version is the Arc Flash with Electrical Safety basic course)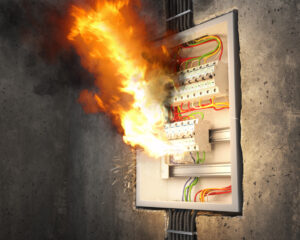 Click on a service below for the online calendar and registration form.
What is an arc flash?
An electrical accident results in a potentially lethal explosion caused by a high level of temperature. This is called arc flash. The electrical phenomenon known as an arc flash is caused by arc faults. Arc faults are brought on by the discharge of electricity between two or more conductors that are poorly connected, such as damaged wires. Arcing can also be caused by sparks.
Purpose of arc flash protection:
The purpose of arc flash protection is to lessen the quantity of personal protective equipment (PPE) and prospective arc flash energy to the point where it is possible to carry out duties on equipment smoothly and subtly. During the lifetime of your power equipment, you run the risk of seeing an electrical arc flash at any point. Exceptional circumstances, such as inadequate installation, an abnormally high level of contaminants, or malfunctioning equipment, will make the danger much greater. Utilizing the appropriate personal protective equipment (PPE) is one of the essential elements toward achieving optimal safety. Arc flashes are not only dangerous, but they also have the potential to make equipment useless and cause protracted downtime, all of which may have devastating effects on a company's bottom line. Personal protective equipment helps protect workers from physical danger, but it cannot safeguard against damage to their equipment. This raises the issue of how an arc flash should be avoided in the first place.
Safety against arc flash:
Although there is little chance of an electric arc happening, the potential damage caused by one is rather severe. Control measures may be used to minimize both the chance of something bad happening and the possibility of something bad happening, hence minimizing the risk. Following are the safety measures that can be taken for arc flash:
Electric equipment must be de-energized for reducing the risk of arc flash. 
Always wear suitable personal protective equipment commonly known as PPE. 
Remain and maintain a safe distance to minimize the hazard. 
Energy output should be reduced from an incident. 
Perform a proper risk assessment to avoid future potential hazards. 
Training should be given to on-site workers on priority. This would control risks and interrupt any faults. 
Therefore, arc flash safety is about reducing the likelihood that an arc flash may occur. This is accomplished by carrying out an electrical risk assessment, which will assist in identifying the areas of a facility that have the most potential for harm. It is very necessary to do routine inspections on all high-voltage equipment, including electrical switches, panel boards, circuit boards, plug shields, motor control centers, and all connections. If there is any evidence of corrosion, damage to the wires, or any other problems, they need to be rectified as soon as humanly feasible. This will assist in maintaining the electrical currents' secure confinement inside the machines and cables where they should be.