Midland Lockout Tagout Training
Cost: $80
Duration: 2 Hours

This two hour Lockout Tagout course which includes authorized and affected LOTO training. This is ideal for for workers tasked with oilfield work requiring Lockout Tagout procedures.
Schedule Lockout Tagout training in Midland from the course calendar below or by calling (432) 203-8332 or email the office.
Take the class online by going to www.oilfield.training/p/loto-awareness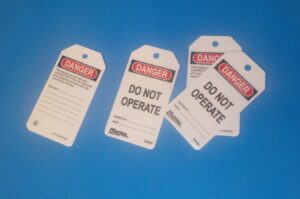 Click on a service below for the online calendar and registration form.
Lockout/Tagout are terms that relate to safety policies and procedures that guarantee potentially hazardous machinery is correctly switched off and is unable to suddenly discharge hazardous energy while maintenance operations are being performed. 
The aforementioned publications set criteria for the correct maintenance and service of machinery that has the potential to emit harmful forms of energy. Companies should determine whether pieces of machinery are mandated by law to adhere to these preventative maintenance guidelines. Not just to keep from having to pay big penalties, but also, and maybe more significantly, to keep the employees safe. During the maintenance operations, there must be a thorough documentation procedure in place to guarantee that all of the machinery satisfies the requirements of the federal rules governing LOTO procedures. The possibility to incorporate LOTO operations greatly increases insight into the performance of more dangerous tasks.
Steps for lockout/tagout safety:
After ensuring that any equipment containing potentially dangerous energy sources has been correctly identified and that all maintenance procedures have been recorded, the following general steps should be completed before any service operations are carried out:
Get ready for the shutdown of machinery.
Notify all personnel who are impacted by the operations and devices that are involved and then shut down the equipment.
Remove the gadget from the potentially dangerous energy source.
Dissipate leftover energy
Lockout and Tagout systems, if appropriate, should be used.
Check to verify that the apparatus is separated appropriately.
Tools used for lockout/tagout safety
Lockout devices: Lockout devices are physical constraints that guarantee that a specific piece of equipment is unavailable or isolated; a simple example of this kind of device is the manner of a keypad and lock
Tagout devices:
Tagout devices are conspicuous warning devices that physically indicate a device to be extremely hazardous; they may be in the form of symbols or indicators that are firmly connected to the lock.
In more recent times, non-physical technologies such as specialized software have been used to make lockout and tag-out procedures carried out more effectively. A beneficial capability that may assure correct compliance to standards is offered by maintenance management software and it is the tracking of lockout and tagout operations using this software.
Therefore, the implementation of lockout and tagout processes is one method for ensuring the safety of employees, in particular concerning potentially dangerous energy sources. Failure to adhere to LOTO requirements not only results in financial penalties but also has the potential to result in bodily harm or even death. Schedule your lockout tagout class in Midland today!